Check out the new Gothic Romance
AWAKENING HIS DUCHESS
Lord Beaumont Havendish has been thought dead for nine long years. However, death would be a relief from his grinding existence as a white slave in the tropical island of Saint-Domingue. At long last revolution gives him a chance to escape, but he'll never escape the knowledge that the woman he loved sent him into a living hell.
He leaves the tropical sands behind and returns to the gentle shores of England thinking the nightmare is finally behind him, only to find it has only just begun. The traitorous Yvette is comfortably ensconced in his ancestral home, posing as Beau's bereaved widow. Yet, nothing is what it seems. Yvette is no longer the girl he once adored. She seems more like a ghost than the wicked temptress he believes betrayed him. Can he forgive the past and dare he risk AWAKENING HIS DUCHESS?
A 2012 Daphne du Maurier WINNER!
Amazon
Barnes& Noble
Kobo
iBookstore
Sony
Check out the Nook First release: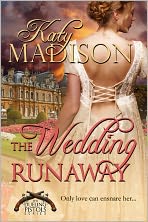 It's a Duel for the Cross-Dressed Bride
The Wedding Runaway
Katy Madison continues her Dueling Pistols series in this tale of a runaway bride who poses as a young man named Leonard. After wounding the curiously attractive Leonard in a duel, the Earl of Wedmont takes keen interest in his/her recovery.
Available Now
NOOK Book: $2.99 
Buy at Barnes & Noble Now >
Amazon
Smashwords
Although Daniel Thorton's wrongful conviction for killing his high school girlfriend is overturned, suspicions about his guilt are ruining his life. He returns to sleepy Fairland to find the real murderer. His only hope of success is if he can convince Jennifer Collins to help him clear his name.
Jen's life has been off track since her best friend was brutally murdered. She never expects to find the man thought responsible on her doorstep.  She may have believed him innocent long after everyone else wrote him off, but the last thing she needs is to be reminded of the painful past.
But when a coworker goes missing, Jen must do everything she can to find her, even if it means working with a man who may have killed her best friend…
Enjoy!    
Best,

Visit KINDLE 3
The Wedding Duel Available in e-book!  AmazonKindle Store & Barnes and Noble Nook & Smashwords where you can preview 50% of the book for free.
An Award winning romantic suspense novel.  Available for the first time in digital formats.
The Second Shot available in e-book
Amazon Barnes & Noble Smashwords where you can preview 50% for free